Uniject sees red!
Uniject designs elevating platforms for firefighting vehicles which we export to Germany, Brazil and the United States.

Uniject'Air: an innovative concept
Uniject'air is a patented modular door concept for cold storage which offers users and manufacturers the best possible delivery solution.

Uniject takes to the water
Discover SWAM, an innovative lane separation solution for swimming pools.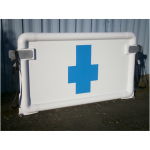 See us at work…
Take 5 minutes to find out more about what we do,
our know-how and our skills.